Attacks Up, Ergo Insurgents' Last Throes
What logic was Dickhead Cheney using when he said last week that the Iraqi insurgency was in its "last throes":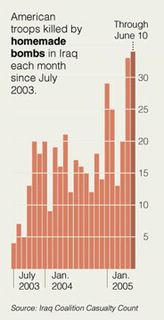 The NY Times reported that (emphasis added):

Last month there were about 700 attacks against American forces using so-called improvised explosive devices, or I.E.D.'s, the highest number since the invasion of Iraq in 2003, according to the American military command in Iraq and a senior Pentagon military official. Attacks on Iraqis also reached unprecedented levels, Lt. Gen. John Vines, a senior American ground commander in Iraq, told reporters on Tuesday.
Maybe Cheney was feeling optimistic knowing that his old pals at "overcharges-are-us" Halliburton got that sweet $30 million
contract
to build a new torture facility to replace the one at Guantanamo Bay:
A subsidiary of Halliburton, Kellogg Brown & Root Services, has been awarded $30 million to build a 220-bed prison for terrorism suspects at Guantánamo Bay, Cuba, the Pentagon announced Friday. ...

The job is part of a larger contract that could be worth up to $500 million through 2010, the Pentagon said.

Senator Frank R. Lautenberg, Democrat of New Jersey, criticized the deal, calling Halliburton the "scandal-plagued former employer of Vice President Cheney."