James Hansen should get a medal
I'll have to come up with an alternative to the boneless chicken graphic for heroes like NASA scientist James Hansen who's willing to tell it like it is in spite of attempts by the Bush administration to cover up the truth.

CBS' 60 Minutes:

Hansen says his research shows that man has just 10 years to reduce greenhouse gases before global warming reaches what he calls a tipping point and becomes unstoppable. He says the White House is blocking that message.

"In my more than three decades in the government I've never witnessed such restrictions on the ability of scientists to communicate with the public," says Hansen.
More on the Bush administration science whitewash was posted
earlier in

PGR
, including Phil Cooney's liberal use of whiteout and a thesaurus to cleanse the truth out of scientific research before the heat inside the White House got to him, and he quit to work for
Exxon Mobil
.
Meanwhile, the Bush administration is still in denial. The Saturday
Times-Picayune
reported:
U.S. Environmental Protection Agency Administrator Stephen Johnson said Friday that the Bush administration is committed to rebuilding Louisiana's shattered coastline, but offered no new money for an effort expected to cost up to $14 billion.

Nor did he offer any specifics as to what role his agency would play.

"President Bush and EPA are determined to rebuild and rejuvenate our nation's wetlands," Johnson said in a speech at the annual meeting of the National Wildlife Federation in New Orleans. "After Katrina and Rita, the entire world knows how important wetlands are to our lives and our communities .... Coastal security and sustainability are about more than levees and concrete." ...

Since the 1930s, Louisiana has lost an estimated 1,900 square miles of coastal wetlands to erosion. Despite passage of the Breaux Act by Congress in 1990 in an attempt to stop the losses, land has continued to disappear at the rate of about 24 square miles annually over the past decade.
"Hey, thanks for the oil suckers!"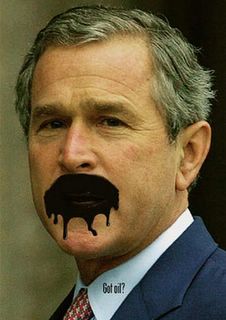 "Too bad you friggin' coonasses and cajuns don't have any friggin' coastline left! Too late now!"
I just wonder where are all the Louisiana assholes who voted for Bush. Louisiana could have been a swing state.
(Hat tip: Maureen, for the EPA article).